A Call to Compassion
December 06, 2021 - December 10, 2021 | Your Computer
---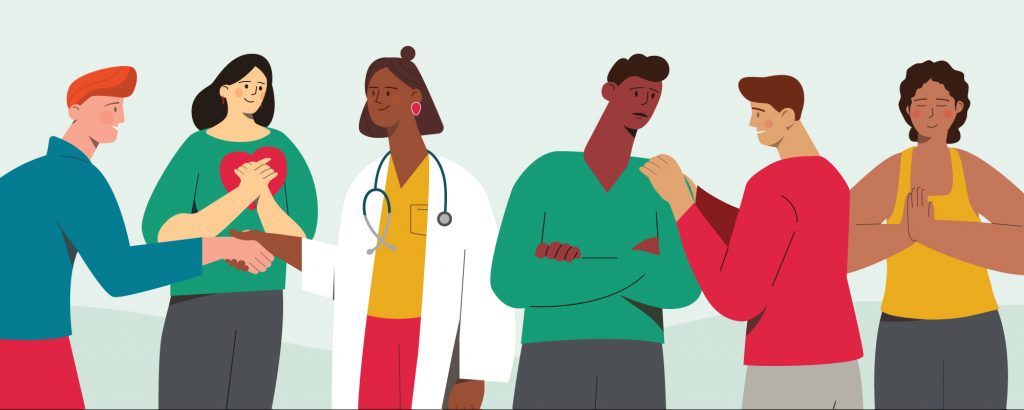 Join HealthySteps to Wellness, in collaboration with CCARE, for a week-long event where experts across diverse disciplines shed insight on how compassion can transform your well-being, relationships, pursuit of meaning and inner peace, and the overall quality of your life.
Compassion for yourself and others has a ripple effect. Showing compassion motivates others to be compassionate and spread generosity and kindness to others. Further, studies show that compassion shifts how you view yourself and the world and positively impacts your physical health.
A Call to Compassion will offer keynote speakers with expertise in compassion and caring science, research, and support. During the week we will offer facilitated discussions on practical ways to practice self-compassion and promote team kindness and support. Use the evidence-based Compassion Toolkit as a resource to participate as a team or practice individually.
For your convenience, we recorded the event's sessions and are making them available so you can watch and learn from them to enhance your daily creativity. Please click the links below to watch the sessions:
Session 1, The Power of Compassion to Change Lives with James Doty, MD
Session 2, Gratitude as a Wellspring to Compassion with Robert Emmons, PhD
Session 3, Compassion & Emotional Intelligence with Emma Seppala, PhD
Session 4, Awakening Compassion at Work with Monica Worline, PhD
Session 5, Creating Fresh Possibilities Out of Impossibly Fragile Conversations with Meag-gan O'Reilly, PhD
Session 6, Overcoming Self-Judgment with Self-Compassion with Al'ai Alvarez, MD
DOWNLOAD YOUR COMPASSION TOOLKIT 
The week's sessions include compassion's power for changing lives, the connection between gratitude and compassion, compassion and emotional intelligence, awakening compassion, the science behind compassion, and overcoming self-judgment with compassion. HealthySteps to Wellness wants to offer a special thank you to the Stanford Center for Compassion and Altruism Research and Education (CCARE) for their partnership with the event.
CE CREDITS (Live Sessions Only)
CE credits can be claimed after each session. Using the link provided during each session, attendees will be directed to the Stanford CME portal to complete a brief evaluation and claim credit.  If the attendee does not have a profile, a new account will need to be created first in order to claim credit.*
You can see the full schedule below:
---
James R. Doty, M.D.
Adjunct professor of neurosurgery, Stanford University
Director of the Center for Compassion and Altruism Research and Education (CCARE), Stanford University

The Power of Compassion to Change Lives
Monday, December 6, 11 a.m.

Scientific studies have now demonstrated that being compassionate has a profound effect on not only others but also on oneself. When one is self-compassionate, it changes how one views the world, but more importantly, it has a huge positive effect on a variety of physiologic parameters, including cardiac and peripheral vascular functions, the immune system, the production of inflammatory proteins and the immune system. It also changes how one views the world and its possibilities and has a ripple effect so that when one views another being compassionate, it motivates them to be compassionate.
---
Robert A. Emmons, Ph.D.
Professor emeritus of psychology, University of California, Davis

Gratitude as a Wellspring to Compassion
Monday, December 6, 12 p.m.

Gratitude, the affirmation and recognition of benefits received, is both a personal and social good. It's valuable for the person who possesses it and for society at large. This way of being in the world encircles much of what we do and who we are. The power of gratitude derives from a need that is deeply entrenched in the human condition—the need to give thanks. Two decades of research has verified that gratitude generates a positive ripple effect through every area of our lives, potentially satisfying some of our deepest yearnings, including our desire for happiness, pursuit of better relationships, ability to make meaning out of suffering, and our ceaseless quest for inner peace, health, wholeness and contentment. Most importantly, gratitude for kindnesses received motivates and inspires even greater acts of kindness, compassion and generosity.
---
Emma Seppala, Ph.D.
Lecturer, Yale School of Management
Faculty Director, Yale School of Management's Women's Leadership Program

Compassion and Emotional Intelligence
Monday, December 6, 1 p.m.

Emotional intelligence is the ability to have self-awareness, self-regulation, empathy, and compassion. These qualities are key to success in both your personal and professional life. It is critical to develop in these chaotic times of human history. With greater emotional intelligence, we can learn to connect with one another in optimal ways that will lead to the greatest good for all.
---
Monica Worline, Ph.D.
Faculty director, engaged learning and innovation, Center for Positive Organizations, University of Michigan
Research scientist, Center for Compassion and Altruism Research, Stanford University

The Science and Practice of Compassion at Work (and Beyond)!
Tuesday, December 7, 11 a.m.

While compassion is an innate human capacity that becomes visible early in life, it is also a skilled practice that can and must be honed and developed across our entire lives and careers. Leadership and work practices to awaken compassion often require artful ways to activate the undeveloped capacity for emotional awareness, self-awareness, and relational connectedness that lie fallow in our work. Our workplaces can make the impulse to awaken compassion easier or harder through their structures and cultures. The pandemic has drawn attention to the need for workplaces to change their approaches to compassion and well-being and to remove the obstacles that get in our way of addressing our own suffering as well as that of our patients, clients, students, and colleagues. This session will suggest new ways to think about organizational change through the lens of compassion and to remove what gets in the way of our being at our best together.
---
Meag-gan O'Reilly, Ph.D.
Staff psychologist and program coordinate for outreach, equity and inclusion; counseling and psychological services (CAPS), Stanford University
Adjunct faculty, School of Medicine, Stanford University

Creating Fresh Possibilities Out of Impossibly Fragile Conversations
Tuesday, December 7, 12 p.m.

Diversity, equality, and inclusion (DEI) initiatives are proliferating for all the right reasons after this year of racial strife. However, the ideals of DEI and belonging begin with safety and trust in relationships. This presentation taps into the human part in all of us that replays missed connections in conversations and that wishes we could do it over.

Well, now you can! Or at least you can watch us demonstrate how to embark on difficult conversations and model personal authenticity within a framework of organizational accountability. Active listening is featured, and our panelists will illustrate the vulnerability, humility, and empathy skills needed for one person to be entirely listening and for another to be completely heard. Our goal for this session is for Forum21 participants to see in real-time how respect, curiosity, and connection heals from the inside out and is the prerequisite for the equitable world we are building together.
---
Al'ai Alvarez, M.D.
Director of well-being, clinical assistant professor, emergency medicine, Stanford University
Fellowship Director, Stanford Emergency Medicine Physician Wellness
Co-chair, Stanford WellMD Physician Wellness Forum

Overcoming Self-Judgment With Self-Compassion
Tuesday, December 7, 1 p.m.

In medicine, even with the best care and intentions, medical harm and bad outcomes still occur. Unfortunately, these affect not only the patients. Physicians and the rest of the care team experience vicarious trauma. Vicarious trauma often leads to guilt or shame, which exacerbates one's sense of being an imposter and the feeling of being not good enough, which leads to further isolation. Self-compassion allows for the creation of connections that help overcome isolation and loneliness in medicine.
---
Patty de Vries
Program lead, BeWell, Stanford University


Al'ai Alvarez, M.D.
Director of well-being, clinical assistant professor, emergency medicine, Stanford University
Fellowship Director, Stanford Emergency Medicine Physician Wellness
Co-chair, Stanford WellMD Physician Wellness Forum

 

 

 

 

 

 

Be the Change
Wednesday, December 8, 12 p.m.

A call to compassion isn't complete without action toward a more compassionate world. This interactive session will bring several practical concepts together to support meaningful change within ourselves and our community. Please join us to discuss simple tools and ideas to support our own well-being and the well-being of our co-workers, family and friends.  
---
Julie Collier, Ph.D.
Clinical assistant professor, School of Medicine, Stanford University

 

Andy Helgesen, B.A., B.S.N., R.N.
Resilience education program manager, Office of Professional and Fulfillment and Resilience, Stanford Children's Health

 

 

 

 

 

The Role of Self-Regulation in Cultivating Compassion
Thursday, December 9, 12 p.m.

An often-overlooked factor in discussions around cultivating compassion is the need for self-regulation. When our nervous systems are distressed, we are wired to seek safety, either through sympathetic mobilization or a dorsal vagal withdrawal. Although these states are adaptive for survival, compassion is impossible to access inside these states. In addition to explaining how this process functions, this session will give practical exercises for regulating our own nervous systems, thus paving the way for access to our innate capacity for compassion. The myth of "compassion fatigue" will also be debunked.
---
Gisso Oreo, M.S.N., R.N., NEA-BC, NPD-BC, Caritas Coach
Director, Professional Development, Center for Education and Professional Development (CEPD), Stanford Health Care

Self-compassion: I Matter
Friday, December 10, 12 p.m.

This one-hour session will focus on personal empowerment through self-reflection and self-compassion. We will engage in a group activity that identifies and celebrates the traits that are unique to you and that help you flourish. You will then identify a commitment that will honor you as you move forward.
*ACCREDITATION STATEMENT
In support of improving patient care, Stanford Medicine is jointly accredited by the Accreditation Council for Continuing Medical Education (ACCME), the Accreditation Council for Pharmacy Education (ACPE), and the American Nurses Credentialing Center (ANCC), to provide continuing education for the healthcare team.
American Medical Association (AMA)
Stanford Medicine designates this Live Activity for a maximum of 9 AMA PRA Category 1 CreditsTM. Physicians should claim only the credit commensurate with the extent of their participation in the activity.
American Nurses Credentialing Center (ANCC)
Stanford Medicine designates this live activity for a maximum of 9 ANCC contact hours.
ASWB Approved Continuing Education Credit (ACE) –Social Work Credit
As a Jointly Accredited Organization, Stanford Medicine is approved to offer social work continuing education by the Association of Social Work Boards (ASWB) Approved Continuing Education (ACE) program. Organizations, not individual courses, are approved under this program. State and provincial regulatory boards have the final authority to determine whether an individual course may be accepted for continuing education credit. Stanford Medicine maintains responsibility for this course. Social workers completing this activity receive 9 live continuing education credits.
American Psychological Association (APA)
Continuing Education (CE) credits for psychologists are provided through the co-sponsorship of the American Psychological Association (APA) Office of Continuing Education in Psychology (CEP). The APA CEP Office maintains responsibility for the content of the programs.