For Your Team
Virtual Team Training
---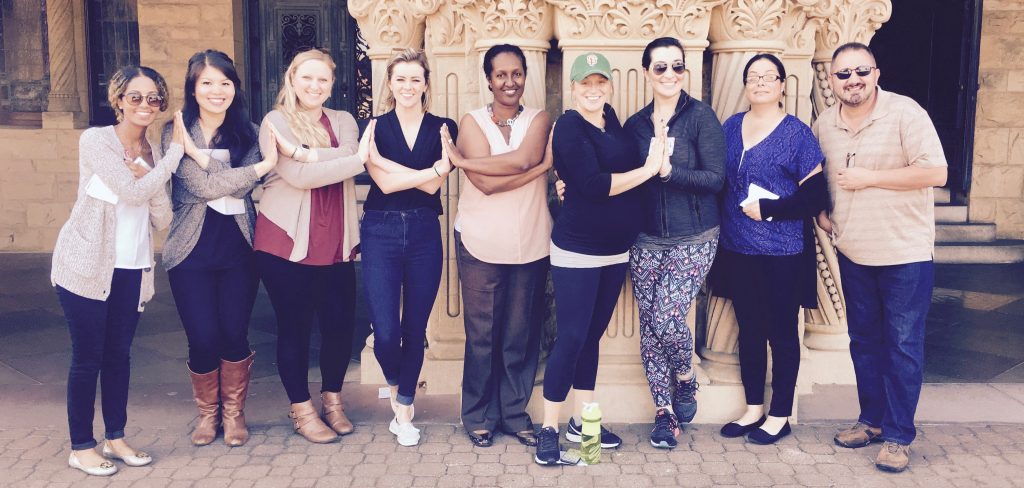 The HealthySteps team is here to support your team's wellness goals. We can work with your team in a variety of settings…
in huddles
at staff meetings
at retreats
at seminars
during a six-week program
other formats are also available
Team Trainings include:
Meditation and Relaxation
Experience guided body scans, breathing techniques, loving kindness and compassion meditations.
Self-Care & Stress Management
Learn about topics such as laughter, gratitude, optimism and deep breathing.
Positive Psychology Interventions
Keep a 3 Good Things Journal, write a gratitude letter and uncover your signature strengths.
Positive and Compassionate Communication
Practice "I" messages, make requests and shift your perspective on everyday conflict. Refresh your active listening skills and increase the quality of your interpersonal interactions.
Mindsets
Explore the benefits of a growth mindset. Discover the relationship between challenge and growth. Assess your perception of circumstances that are enhancing or debilitating.

Action Planning for Physical Health Foundations
Make a plan to renew your commitment to physical activity, nutrition and stress reduction.
HealthySteps to Wellness Overview
Get answers to your questions about the incentive program and wellness tools.
Campus Scavenger Hunt
Split into teams to hunt for various landmarks around campus.  Follow clues, enjoy the fresh air, take photos and have some fun.
Team Building Activities
Play fun games with your team (Two Truths and a Lie, Build the Tallest Tower out of Spaghetti and Marshmallows and Meditative Coloring).
Create Your Own
Let us know if you have a unique Team Training request or would like to mix-and-match any of the above options.
Ready to go?
Pick your activity and submit your request
READY TO GET STARTED?
Complete this short survey and a HealthySteps team member will be in touch with you shortly.   TAKE SURVEY NOW
Interested in a six-week course?
Try one of our new courses. The classes meets once a week for 30 minutes and run for six weeks. A minimum of 5 participants are needed. Learn More