Wellness Works for the Care Coordination Department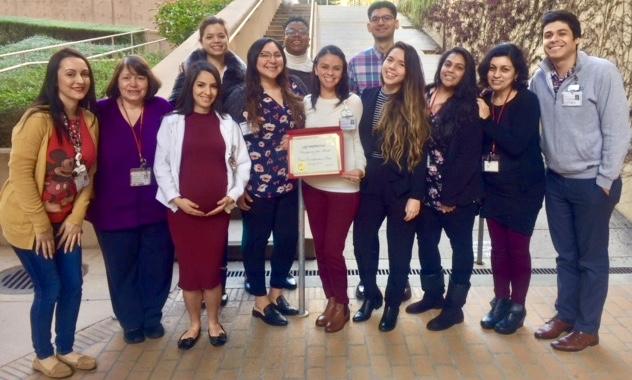 Wellness is working for the Care Coordination Department (CCD). The CCD is the first team to receive a collective Wellness Champions of the Month certificate as a result of finishing their third wellness team challenge. Jessica Ray, Wellness Champion and Care Coordination Liaison, has taken the lead on designing team challenges and is currently finalizing plans for the team's fourth challenge, which includes a special game she created to track team progress.
When asked about the benefits of engaging in wellness challenges together, the team highlighted their success getting back on track faster. It was easier to re-commit to goals when they relapsed from their plans and "fell off the wagon." They also reported higher levels of commitment to themselves as individuals, as well as their team.
Increased awareness was another top benefit for this team. Care Coordination Manager Maribel Gutierrez shared, "I realized I wasn't doing as much as I thought. I asked myself if I was really following a healthy pattern." CCD team members chose at least one challenge for four weeks. They found tried and true health improvements resulted in slow and steady life changes. Challenge goals included physical activity three times a week; reducing sugar consumption; eliminating junk food; eating five servings of fruits and vegetables; increasing water consumption; and sleeping at least six hours a night. Team members chose two unhealthy habits to reduce and two healthy habits to improve.
Kristen Lockhart, Care Coordination Liaison and Wellness Champion, recommended, "Just start. Don't think more about it," if a team is undecided about forming wellness team challenges. Many team members emphasized progress over perfection and the value of frequent check-ins. This group is in contact with every service line in the hospital, which means little time for long conversations. Consistent brief encouragement and setting realistic goals supported the CCD team in overcoming barriers related to time.
The CCD team is practicing a Culture of Wellness by sharing values and behaviors that promote self-care, committing to personal and professional growth, and practicing compassion toward themselves and colleagues. Wellness is working as this team turns small changes into big wins.
Is wellness working for your team?  Share your team's wellness wins by emailing the HealthySteps to Wellness team.
By Jordana Harshman
February 2019